LastPass is a comprehensive and easy-to-use password manager that lets you keep all your important information in one secure app. Always have passwords, pin numbers, bank accounts and other information available in an easy-to-use format. Also boasting web integration via browser add-on, LastPass is a powerful tool for managing your data.
The LastPass Password Manager App is available for free download on the App Store and Google Play. LastPass is also available for Windows and macOS.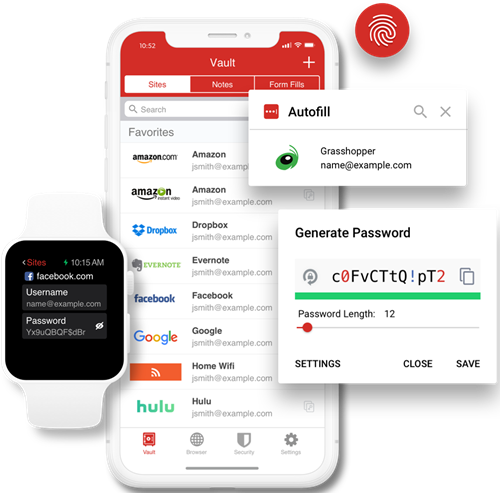 Pros & Cons
Pros
Powerful encrypted security!
Syncs across other platforms, so your passwords are secure yet available regardless of your device!
Easy to use!
Intuitive interface with lots of options!
Cons
One-to-many sharing, emergency access, 1GB encrypted file storage and advanced multi-factor options—are only available with paid plans.
Features
Forgetting a password is a nightmare, yet most apps/websites/accounts want you to login somehow. A number of times I completely forget the password and have to reset it; which requires opening up email, following the link, retyping your new password, trying again and so on. It's a bigger pain if you're mobile too, absolute definition of a 21st century problem. I'm pretty certain I'm not the only person who has suffered from this either.
LastPass aims to remedy this kind of issue. The app is a clever password management tool that goes beyond merely storing passwords on your native device. Beyond the Android interface, you can download and utilize a Windows/Mac client, and even a browser plug-in to carefully, securely and quickly save your important information and passwords; in theory you'll never forget a password again!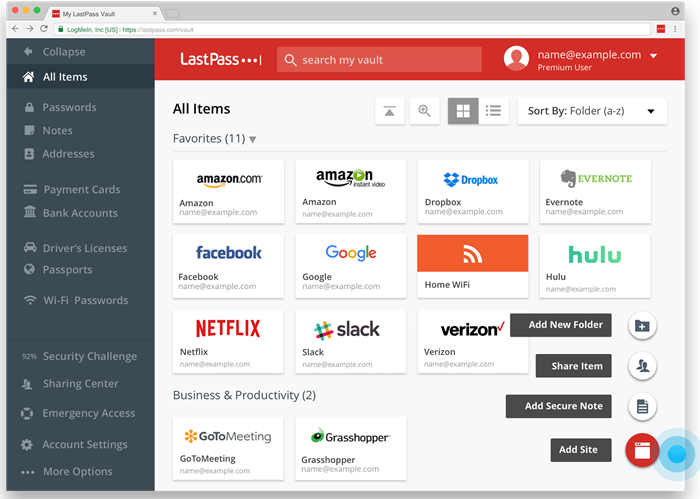 Creating a new wallet in the app is simple and easy. Simply select the type of information you want to enter; a bank account, a website password, a credit card, a library card, etc., enter the info in an easy to complete form and it's done and saved. This can be synced across other devices too, so once you have set up that Windows or Mac client, it syncs with your account and all your data is available whichever device you are using. This can also be done via a Chrome extension, so information can be synced smoothly, securely and easily.
There is a whole host of in-app options too. Create new cards and folders to keep them in, set favorites from different folders, a search feature to identify a particular item and, with the inclusion of a browser plug-in, have all your website passwords saved too. Additionally, the app auto-locks when you close it, so you should have no worries about the possibility of leaving the app 'open' once you have left it.
The interface of the app is incredibly smooth, and while the app lacks some of the customizability we have seen from similar apps – such as Dashlane Password Manager, these are purely cosmetic and didn't contribute to the functionality of the application.
Security
There is always debate over whether users should store valuable information on their mobile device and concerns are always valid when it comes to your secure information such as credit cards and bank accounts. However, LastPass comes with 256-bit AES Encryption so it is as secure as you can get on the Internet.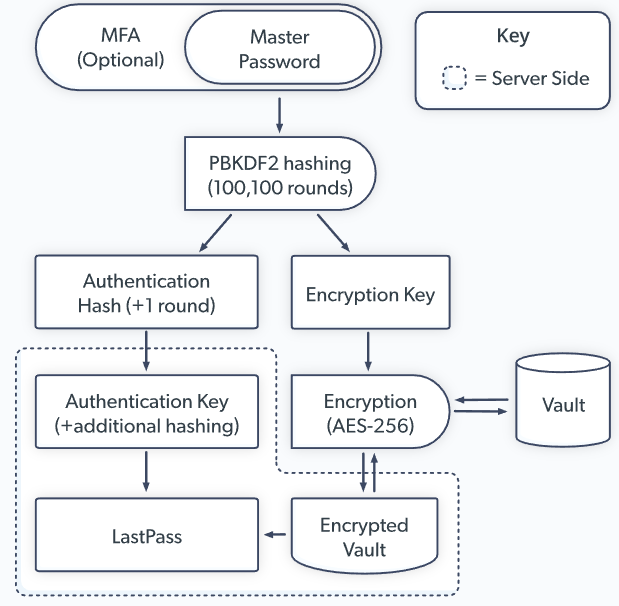 LastPass can be incredibly useful, as anyone who might have forgotten a password and had to jump through hoops to reset it could perhaps attest. The newest version of the app, and the browser add-on incorporate an automatic form-filler, all can be synced and makes logging into sites even easier. The added functionality of the computer clients ensure your passwords are both secure and available to you where you need them.
Ease of Use
It's incredibly simple to use and add data. The additional function of auto-filling makes the app a dream to use, no more grating forms to continually complete with the same information.
You might just choose to use the app for special passwords, or ones you tend to forget most. Alternatively you could easily utilize the app right across all the platforms you use, and add everything you could want. Depending which route you go will therefore determine how much you use the app.
The interface is relatively basic, and you do not have the level of customization that you do on other 'wallet' apps already mentioned here, however the interface in LastPass is remarkably smooth and polished. The menus are crisp, responsive and tactile- making use of the app enjoyable rather than a hassle.
Bottom Line
With the likes of Google Pay on the horizon, and powerful 256-bit AES Encryption available as standard these days, it becoming more and more common for people to enter important information online… and soon, mobile. We all use a variety of sources and only the very paranoid avoid giving out personal data on secure networks. LastPass is a fantastically useful and helpful service that spreads conveniently across the platforms you use, making your experience consistent whenever you are inputting information.
Brilliantly, LastPass is available for a free trial so I would suggest you give it a try and see how it suits you. If you're looking for an app that can save you lots of hassle (very few of us have perfect memories!) then this is a great app and you should certainly give it a go!