NOTE: The hidden version of Mobile Spy is no longer available due to legal issues. There is an icon on the home screen called "MS Monitoring" which notifies the owner of the phone that they are being monitored. Learn more here.
---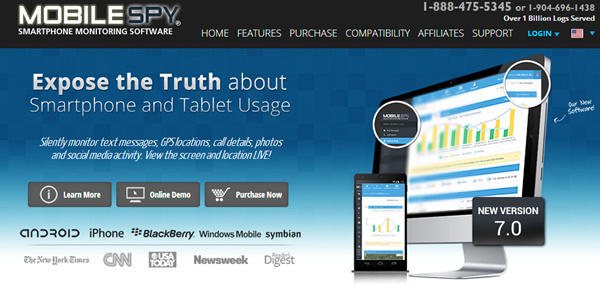 Mobile Spy is a cell phone monitoring application for iOS, Android and BlackBerry developed by Retina-X Studios. It allows you to monitor the smartphone activity of your children. You'll be able to see text messages, track GPS locations, monitor social media activities, view call details and more inside a secure online account. Monitoring made easy. Login anytime you wish from any location to see the recorded data without needing access to the monitored phone.
You can see how it works before you purchase by viewing the Online Demo. Inside the Demo you can navigate the various log viewers and tools. You can also try out Mobile Spy with a free 7-day trial. At the end of the trial period, you can either purchase a license or uninstall the software. Mobile Spy offers quarterly, semi annual and annual subscriptions. The subscription can be cancelled anytime.
Start your free trial today: www.mobile-spy.com/trial.html
Mobile Spy is designed only to be used to monitor your child or employee. It cannot be used to monitor any other individuals (such as a spouse, friend, colleague, etc.). Your child or employee will be notified they are being monitored by the software itself.
How It Works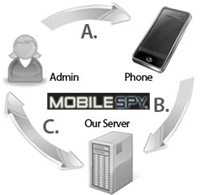 Mobile Spy is the latest in cutting edge mobile monitoring. This innovative software allows users the ability to install spy app directly onto a mobile device that you own or have proper consent to monitor. Once installed, it will record activities such as SMS & MMS messages, call history, websites visited, IM conversations, GPS locations and more.
After installation, you don't have to be concerned with being close to the phone to view the recorded activities since the logs are uploaded to an online account that is viewable from any web browser.
This new technology may sound a bit difficult to some, but it's actually a lot easier than it sounds when using the online user guide for instructions. Below is a short summary of how the process works.
Step 1: Purchase a License
Before purchasing a license for the software, you must acknowledge and agree that you are the owner or authorized administrator of the mobile device you wish to install the software.
After acknowledgment and you are ready to purchase the software, go to the order page and complete the applicable sections and agree to the Legal requirements. Next click and enter your billing information. Complete the order process and check your email for the instructions.
Step 2: Download and Install
Once your order is processed, you will receive an email with your license key. This code will be used to create your username and password for your online account. Your account is where your logs will be viewed and stored.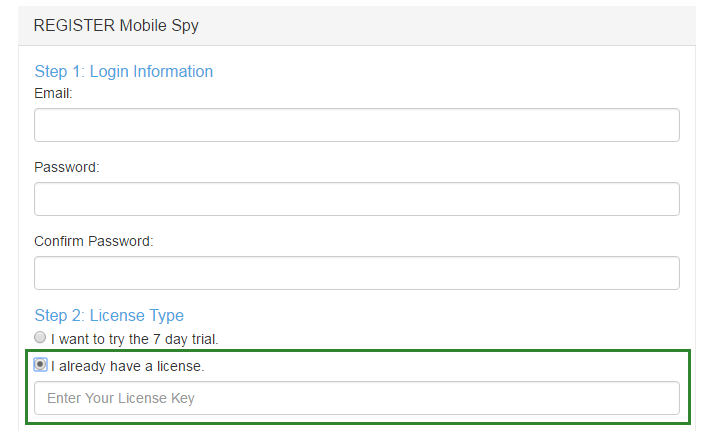 This email will also contain links to the installation instructions. Click on one of the links depending on what type of phone (Android, iOS or BlackBerry) you wish to monitor, now you will be shown step-by-step instructions to download and install the spy app onto that phone. These instructions can also be found in the online user guide.
Mobile Spy is available for Android devices running Android 2.3 and above, and for iOS devices running iOS 3.1.3 and above. After the app is downloaded to the phone, run the installer file on the phone. The app will install in full stealth mode. Once installed, now you're ready to adjust the settings.
Step 3: Adjust Settings
Now you'll select which internet connection will be used to upload the recorded data and select which activities you want to monitor. Select the option to start monitoring.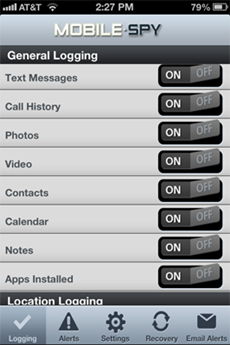 Step 4: Login to View Activities
After you've installed the software it will remain active from that point on. It remains active in the background even if the phone is turned off and back on. The activities will be recorded and uploaded rapidly to your online Mobile Spy account.
You can visit the login page anytime to view the logs in your account. You will be brought to the Online Control Panel after entering your user name and password. The log features are categorized by type, click on the type you wish view to begin.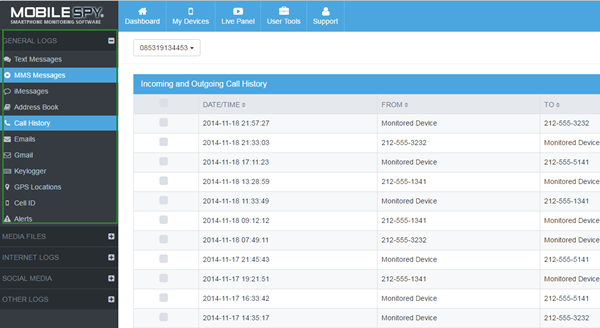 There you go! There's not an easier way to find out exactly what's going on with your phone behind closed doors!
Learn The Truth As It Happens
Do you suspect your child or employee is abusing their phone privileges? Are you concerned they are using the phone for inappropriate activities?
Mobile Spy can help you discover the truth about your children or employees and what they are up to. Discover the truth about their social media, text messages, call history, photos, videos, contacts, and GPS locations.
As an optional feature, the Live Control Panel allows you to view the phone's screen and location in real-time! You can also receive up-to-the-minute data about the phone and remotely control the phone. This feature also gives you the ability to have the recorded data automatically delivered to your email inbox.
Mobile Spy Live Control Panel
Mobile Spy is ahead of the rest by offering the world's only Live Control Panel feature as an optional add-on. Unlike anything else in the spy software industry, this feature allows you to discreetly perform LIVE monitoring, and also allows you to control their cell phone from anywhere.
If you decide to purchase this optional add-on for $39.97 per year, you will be able to view a map of the current GPS location of the phone instantly along with the ability to view the phone's screen as it is being used. Other instant commands are also included such as remotely sending an SMS text message from the monitored device or initiate a call from the monitored device.
Also included are SMS commands that allow you to remotely send commands to the monitored phone by a silent SMS message, this message will not appear on the phone. You'll have the ability to receive SIM card information, current GPS locations, lock or unlock the phone, and much more.
Need to have the recorded data sent to your email? This optional add-on allows you to do just that. You can have selected logs sent to your email at an interval that you decide such as daily or hourly.
Additionally, you will have the ability to instantly email the logs to your email address from within the Live Control Panel. The following is a summary of the features:
Live Control Panel: You can connect to the phone to perform LIVE commands and monitoring.
View Live Screen: View the actual screen of the phone. Updated every 90 seconds.
Instant GPS: Receive instant GPS for that very moment along with latest locations on a map.
Initiate Call or SMS: Send a command to the phone to initiate a call or SMS to a number you choose.
Lock Device: Send a command to lock or unlock the phone with an optional siren alarm.
Get SIM Info: In case the phone is lost or stolen, receive the latest SIM card information.
SMS commands: Send stealth SMS commands for SIM info, GPS locations, Lock and more.
Email Delivery: Have the recorded logs delivered to your email address.
Why Choose Mobile Spy
Rest assured, when you purchase a Mobile Spy subscription you will receive a top of the line software product, support, and service. For the length of your subscription, here's what's included:
Instant Download: Download software immediately after ordering. Request a new download at anytime.
Step By Step Instructions: Detailed step-by-step instructions provided to guide you along the way.
Customizable Username: You create the user name and password you wish to use for your account.
Monitor As Many As Three Devices: Ability to monitor up to three phones with one subscription.
Top Notch Tech Support: 24/7 online support is provided if assistance is needed.
Free Updates: When new updates are available, you'll receive them at no extra cost.
Free SniperSpy: SniperSpy to monitor your computer comes free when purchasing an annual subscription.
The Truth Finally, discover the truth about what they're doing on your smartphone.