Apple tends to be a leader in the technology world. They seem to come out with the latest and greatest, while others trail behind. However, there is one process Apple was not happy about because it jeopardizes their control over their infamous iPhone, iPod, and iPad.
The process is called jailbreak, and it takes out the limitations of the operating system that is installed on the Apple products. When this is preformed, users are removing the restrictions that Apple has placed on their devices. The owner can now download apps and other content from different means other than the Apple store.
Jailbreaking a device gives a lot of possibilities, but it also brings along a lot of issues that are worrisome to the user. This is why the process is not highly recommended because security and privacy become an issue.
Parents who have children often want to ensure their device usage is monitored correctly, but they are not willing to do the risky process of jailbreaking their Apple devices to do this. Thanks to PhoneSheriff Investigator parent's are given a device monitoring option for iPhones, iPods and iPads without having to jailbreak the device.
Note: PhoneSheriff Investigator has been discontinued. This software is no longer available for download, but you can use "mSpy No-Jailbreak Solution", which is a similar product.
This step-by-step tutorial will show you how to spy on your child's iPhone or iPad without Jailbreaking in just a few minutes.
Step 1: Buy and Download PhoneSheriff Investigator Edition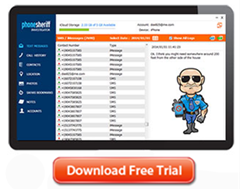 One of the most loved facts about this software is that there are no subscription fees. Therefore, once a parent purchases PhoneSheriff Investigator they own it. Pay a one time fee of $49 and monitor all IOS activities including, text messaging, call histories, photos, contacts, saved notes, iMessages and more.
Once the PhoneSheriff Investigator software is purchased, it will need to be downloaded. Other device monitoring systems would have you download the software right to the device, but that is where the PhoneSheriff Investigator software is different. Once you have bought the software, you will download to your Windows desktop. That's it, it is downloaded on your computer, not the device. All device activity is sent to your iCloud account. This is a convenient and safe way for parents to monitor their children.
At this time, PhoneSheriff Investigator Edition software is only compatible with Windows desktop or laptop computers that are running Windows 8, 7, or Vista (Mac OS X version coming soon). It can be used to monitor all iPhone, iPad or iPod IOS devices that are running 5.x, 6.x or 7.x operating systems.
Step 2: Insert Apple ID
PhoneSheriff Investigator was designed by developers who are aware of the growth in technology. They know most children own multiple devices and that means more than one device needs to be monitored.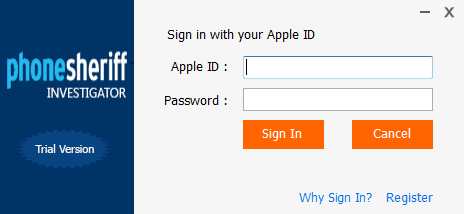 When a parent purchases a software license, they can monitor multiple devices from one centralized location. Simply insert the Apple ID that you wish to spy on and PhoneSheriff Investigator will do the rest.
Step 3: View Activities Instantly
You can start spying instantly. Once the software is purchased and downloaded its all up to you to log in and start tracking the activities on the device. Logs are available at any time. It's that easy!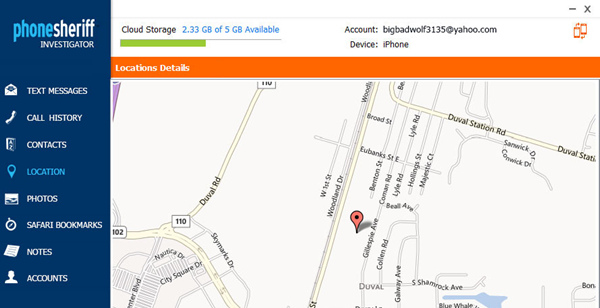 If you are unsure that PhoneSheriff Investigator is right for you, you are in luck. They are offering a free no obligation 7-day-trial. There are no credit cards or personal information to get started. This will give parents the ability to see recent activity for a full 7 days before making the commitment to buy the full version of PhoneSheriff Investigator.
Download and try PhoneSheriff Investigator for free and see yourself how it works.
This software has opened a new world of monitoring for parents. It gives a parent the ability to track their child's Apple device usage without all the hassle. Not only is this a one time fee software, you can also use it to track as many devices as needed. PhoneSheriff Investigator really is a software based on a family's needs.