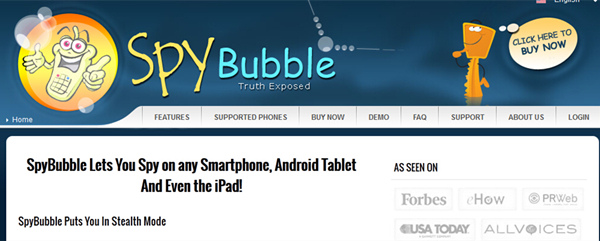 What is SpyBubble?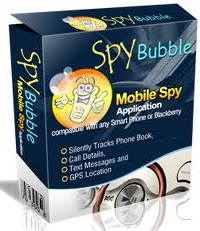 SpyBubble is a spy app that lets you secretly spy on someone's phone. This spy app is compatible with a variety of mobile devices, including iPhone, Android, BlackBerry and Symbian, and it offers logging features for most cell phone activity. SpyBubble doesn't provide the blocking and restricting features that you will find in several similar applications. However, it has many useful features, and its monitoring features are excellent.
How It Works
After the SpyBubble app is installed on the desired cell phone, you can monitor its activity in real time and view all results in your SpyBubble online account. The app monitors the basic cell phone activity, such as phone calls and text messages. Here's an overview of how it works:

SpyBubble runs in stealth mode, meaning it is undetectable. It runs silently in the background of the cell phone and does not have to be activated each time the phone is turned on.
Note: The new version of SpyBubble will notify the user of the phone that the phone is being monitored. The user of the phone will be aware of monitoring activities.
Features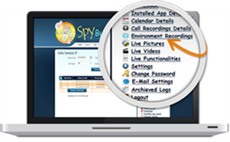 The phone logs are fairly extensive and allow you to see the number of calls made from each phone number, any contact information for the number, the duration of the call and the time the call was placed. Text monitoring is similar and allows you to view the actual messages that are sent back and forth.
In addition to call and text monitoring, with SpyBubble, you have access to the phone's address book and can view all contact information.
You can view all of the photos stored on the device, along with any sent and received emails. It also allows you to track internet activity and view all webpages accessed on the smartphone.
Unfortunately, there are a few activities that it does not log, such as stored videos and calendar events. There also is no Instant Messenger logging feature, so you cannot view any chats that may have been occurring on their phone.
It does not offer any blocking or restriction tools, so you cannot block phone numbers, websites or even mobile apps. In addition, you cannot set keyword alerts to receive notifications if inappropriate material is viewed on the cellular device.
SpyBubble does not offer much when it comes to the security of the phone. If the phone is misplaced or lost, your only option is to track the device using the GPS tracking tools. This software does not provide alerts if the SIM card is tampered with, and you cannot wipe or lock the device from a remote location.
Compatibility
SpyBubble is compatible with the following operating systems:
Android 1.0 and later
iOS 2.0 or later (Jailbreaking is required)
Windows Mobile 5.0 or later
BlackBerry 4.2.1 or later
Symbian (Edition 3, Edition 3 Feature Packs 1 and 2, Edition 5)
Pricing
There are two versions of SpyBubble: SpyBubble Standard and SpyBubble Pro, both of which can be purchased on a one-year subscription basis. The Standard version costs $49.95, and the Pro version costs $84.90. You can pay via PayPal or credit card. With the Pro version, users can listen to any call made to or from the target phone.

Support
SpyBubble has an extensive set of FAQs to answer your questions. The FAQs contain a lot of useful product information, but if you have a question that the FAQs section does not answer, the only way to reach customer service for additional information is through an email submission form. We submitted a question about SpyBubble's software and never received an answer. SpyBubble does not have live chat or telephone support, nor does its website contain any user guides.
Conclusion
SpyBubble has many useful tools to keep track of your loved one's cell phone use. The available logging tools ensure that you can see what type of content is being viewed on the phone and to whom your loved one is talking. There is plenty of room for improvement on SpyBubble with the feature set and security options. However, it is still a useful application that lets you keep tabs on a phone's activity.