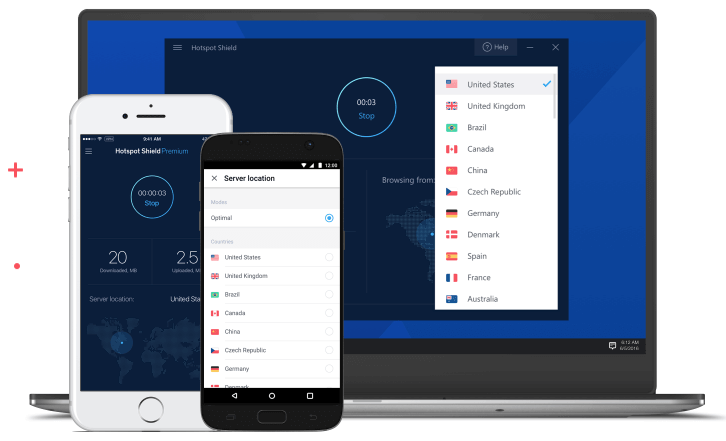 Hotspot Shield VPN protects your devices by securely encrypting your internet connection – both incoming and outgoing. It can also lift restrictions such as the ability to visit location blocked websites or apps, while keeping your browsing activity anonymous.
I'm sure you've been warned about freely connecting to coffee shop free WiFi networks, right? Some hackers bait unknowing users by setting up their own free WiFi network masked as the bean brewer's own in an effort that you connect to it… log in somewhere important and they steal your passwords. More savvy hackers can log onto the same legit WiFi network as you and using sophisticated software sniff activity on the network and steal your passwords that way. Hence the need for secure VPN (virtual private network) apps like Hotspot Shield.
This app allows you to connect to the provider's secure network and encrypts traffic incoming and outgoing – if in the case your traffic is intercepted by a hacker it'll be useless. Other benefits of Hotspot Shield allows you to browse anonymously by masking your true location. You have the option to choose which location to you want to seem to be browsing from. For example, if your country restricts access to certain content, websites or apps… in essence you can use this VPN app to mask your location and access it.
You can download the Hotspot Shield app from the Apple Store or Google Play Store. Hotspot Shield has a free account but this is limited to 500MB of data per day.
Upon first activating the VPN you'll be greeted with a warning as the app intercepts all your internet traffic. You'll also notice it does not work over mobile networks, only over WiFi. Thereafter, you have two choices of protection; Full Mode or Smart Mode. Full Mode offers maximum security and privacy (noted in green). All traffic goes through providers secure VPN tunnel. Smart Mode automatically turns on best protection based on network security – helps maintain speed (noted in blue). In the freebie there is a limit of bandwidth restarting after a wait time, you'll have to upgrade for unlimited & ad-free offerings.
Few use cases:
Visit sites blocked by your network
Download apps only available to other countries
Browse anonymously
Protect against hackers sniffing i.e. at coffee shop WiFi hotspots
Hotspot Shield offers many benefits from private internet activity to unblocking sites & content to protecting your traffic and more. It's only available for WiFi networks and not mobile data. And if you plan to extensively use this app look into the monthly or annual plans as the free version is obviously restricted in bandwidth. Go ahead and give it a try now!