What's New in Mobile Spy v6.5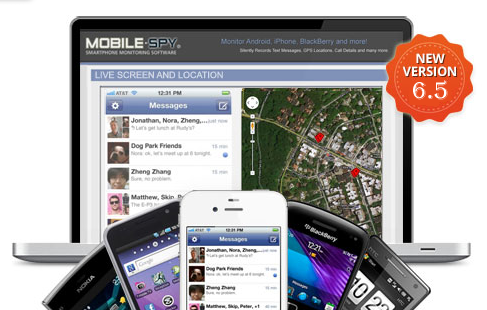 You will find that Mobile Spy is today's leader in the cell phone spy software industry. Their software provides a robust set of features when it comes to monitoring the smartphone of your child, employee, or cheating spouse. Plus, Mobile Spy is backed by Retina-X Studios which has been in the business of providing spy software solutions since the very beginning.
It is no surprise that Mobile Spy's upgrade to version 6.5 makes the cell phone spy better than ever before.
Mobile Spy v6.5 New Update Features
Mobile Spy v6.5 upgrades the user experience for its basic product and the optional LIVE Control Panel add-on. Some of the new or improved features include:
Stealth recording of the smartphone's surroundings (LIVE Control Panel)
Multiple device monitoring on the control panel
Added ease to the installation process
Ability to configure custom alerts
Stealth photo capability (LIVE Control Panel)
By also taking advantage of the Mobile Spy LIVE Control Panel add-on, you get all of the above features plus others such as the ability to view the screen of the monitored smartphone.
1. Silently Record Surroundings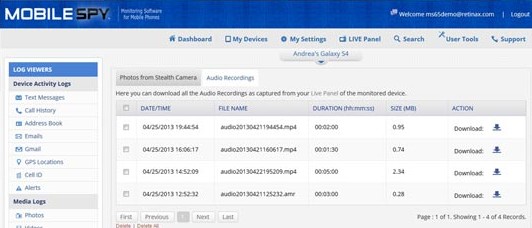 When you purchase the LIVE Control Panel option, you get the ability to activate the monitored smartphone's microphone and listen in on its surrounding sounds.
There is a myriad of ways this can be useful. For example, you might suspect your employee of spreading malicious and demoralizing gossip about the company and its management. If that employee is carrying a company-issued smartphone with the Mobile Spy v6.5 cell phone spy app on it, you can secretly record what he is saying.
All recordings are sent to your control panel for listening and documenting incidents.
2. See Multiple Devices from the Control Panel
As a business owner, you may have issued several smartphones to your employees and all with the Mobile Spy cell phone tracker running on them. Now with v6.5 you can view the logs of multiple smartphones even if they are mixed operating systems. Thus, you can monitor all of the devices running the apps you subscribed for be they for Android, iPhone, BlackBerry, Symbian, or Windows Mobile.
3. Find Out Quickly with Custom Alerts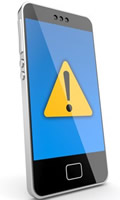 Another attractive perk provided with the cell phone tracker released with Mobile Spy v6.5 is alerts notifications. Alerts are where you as the subscriber get notified when the user of the monitored smartphone is involved in certain events.
There are 5 classes of alert notifications with the upgraded Mobile Spy and these are:
Contacts – when another party at a configured number is called or calls
Profanity – alerted when profanity is used in text messages
Custom – subscriber defines certain keywords of interest to get alerted when used in text messages
Intrusion – receive notification when there is a failed attempt to get past the monitored smartphone's lock screen
Geofencing – when the monitored user travels outside of geographical boundaries set by you
When one of these events occurs based on how you configured it, you will receive notification via SMS which allows you to take action as necessary.
4. Take a Silent Snapshot from the Smartphone

Just as Mobile Spy can be used for getting a recording of the smartphone's surroundings, you can also take a stealth photo from the monitored device's camera. You do it using a remote command right from your LIVE Control Panel.
Stealth photos can be quite helpful in completing the puzzle as to where your child, employee, or cheating spouse really is as opposed to what they are telling you.
Steps for Upgrading to Mobile Spy v6.5
Upgrading to Mobile Spy v6.5 is easy and requires just 3 simple steps to accomplish:
1. Uninstall the previous version of Mobile Spy that you had on the smartphone.
2. Install the new v6.5.
3. Log in to your control panel as always and enjoy the new features.
You can see now that the Mobile Spy v6.5 upgrade greatly improves your ability to monitor the activities of those you care about or have a responsibility to look after. You can purchase a Mobile Spy v6.5 cell phone spy subscription starting at $49.97 for a 3-month subscription and $99.97 for 12-months.
The optional LIVE Control Panel only adds $49.97 to the subscription (with a 12-month subscription).
Keep yourself abreast of the truth when comes to your child, employee, or cheating spouse and buy a subscription to Mobile Spy without hesitation.