Cell phone spy software is an innovative product that keeps you in control of smartphones held in the hands of those whom you are responsible for. The product from MobiStealth answers this call with its spy software that runs on different smartphone models. Here is a comprehensive review on how MobiStealth can help you.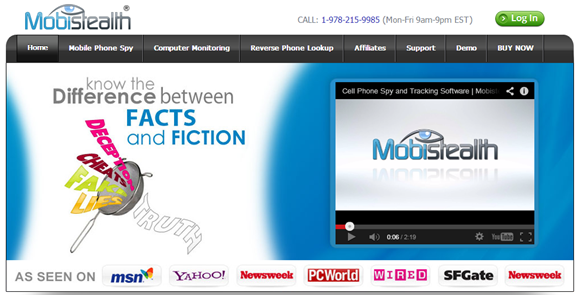 The Problems Solved
Before you can determine if a cell phone spy software product such as the one from MobiStealth can help you, know what problems it will solve. The product will help you solve:
Where the monitored user is
With whom are they speaking and texting
The websites they are visiting
Pictures and videos they are taking
Protecting the smartphone when it is lost or stolen
These are problems that parents of teenagers and employers typically experience when they give smartphones to them for their use. Teenagers like to use their cell phones to enhance their freedom from you their parent as well as cover their tracks. You wouldn't know any of these situations without cell phone tracking software.
The same applies when you have employees with company-issued smartphones. You would want to know what is going on when both the phone and employee are out of your sight so that you can be proactive in protecting your business.
The Main Features of MobiStealth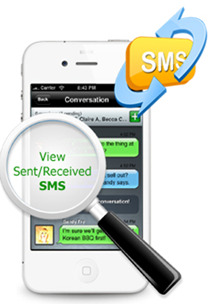 Mobistealth's cell phone spy software features that users demand from a smartphone monitoring app such as this. Thus, it provides the main features with relation to the monitored smartphone:
Tracking of all incoming/outgoing calls and SMS messages
Recording location history
Monitoring the web browser history
Keeping a record of the contacts file
Logging of pictures and videos taken
Tracking appointments in the calendar
These are the basics that you will find from almost any of the cell phone spy software makers. Keep reading and find out how MobiStealth goes about doing it and some key advantages that make it special.
The Main Advantages of MobiStealth
The main features define the power of MobiStealth but there are some distinct features that provide added perks such as:
Privacy features
Recordings of calls and surroundings
Logging of bookmarks
Tracking with or without GPS
4 pricing tiers
15-day money back guarantee (not for Basic version)
Each of these distinct advantages related to MobiStealth are described below. Read further and see how they can benefit your needs.
1. Privacy Features
When a smartphone does not have cell phone spy software running on it such as the product offered by MobiStealth, it can be used as a tool for identity theft if it is lost or stolen. One advantage of this app is that you can take measures when it is lost or stolen to recover it or at least wipe its contents clean if recovery is out of the question.
2. Recording Calls and Surroundings
If the user is up to no good and using the smartphone with MobiStealth cell phone spy software running on it, you can do both recording of calls and surrounding sounds. What's nice about the recording of surroundings feature is that you can set it so that any sound in proximity to the smartphone's microphone will start the recording. This way there is no need to guess the moment when there are surrounding sounds to begin recording. Location tracking will tell you when the target phone user is at a place of interest (i.e., your teenager is somewhere she shouldn't be) and all you need to do is begin recording the surrounding sounds.
3. Logging of Bookmarks
The MobiStealth cell phone spy software sends log records of all websites visited from the target phone's browser. It also sends a record of the sites bookmarked. All can be viewed from the subscriber control panel. But what is advantageous about the Mobistealth control panel is that it separates URLs visited from bookmarks with tabs on the web page for each. This allows you to see the bookmarks in a one-look form and quickly isolate what your teenager or employee finds interesting plus spot any inappropriate sites.
4. Tracking with or Without GPS
This is an obvious advantage of the MobiStealth cell phone monitoring system. You can track location with GPS but with the MobiStealth Pro and Pro-X versions you can even track the phone without GPS.
Tracking a smartphone's location ranks as one of the top features of cell phone spy software. Thus, you wouldn't want to be without it should GPS tracking be unavailable. For example, all the target user has to do on a cell phone is switch GPS off. However, if that happens, MobiStealth will continue to track using cell phone towers.
5. Four Pricing Tiers
The makers of the MobiStealth cell phone spy software know that customers have different pricing preferences. Specific pricing is described below and packages range from the basic features to the top-level Pro-X version with all of them.
6. 15-Day Money Back Guarantee
MobiStealth is confident that you will be pleased with their cell phone monitoring software and they back it with a 15-day money back guarantee with the exception of its basic product. It puts you in a risk-free position where you can evaluate even its top-level Pro-X version and get your money back should you not be satisfied.
How MobiStealth Works
Mobistealth works like other monitoring packages of this nature. You purchase the app, get control of the cell phone that will be monitored, install/configure the app on it, and then start viewing the logs sent from your secure control panel.
Operating System Compatibility
MobiStealth works on smartphones with Android, iOS, BlackBerry, Windows Mobile, and Symbian operating systems. At purchase time, you select the operating system that your phone uses.
MobiStealth Pricing
MobiStealth cell phone spy software can be purchased from the "Buy Now" link on the company's website. As mentioned previously, there are 4 product pricing tiers (versions): Basic, Lite, Pro, and Pro-X. With the exception of their Basic product, you can purchase a subscription for 3, 6, or 12 months.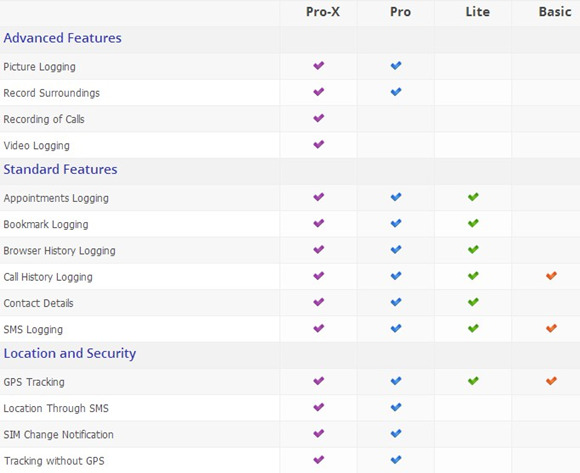 The Basic version is one price at $19.99 but only good for two weeks. It provides the bare minimum of features and is really intended to be somewhat of a trial.
The Lite version starts at the low end of the pricing range at $49.99 for 3 months and with the Pro-X version on the high end at $199 for 12 months (a value at just over $16.50 per month).

Service and Support
Support for MobiStealth cell phone spy software can be reached from the company's support page. They have a searchable knowledgebase, live chat support, and you can submit a ticket.
MobiStealth provides the help that you need to get to the truth when it comes to smartphones that you are responsible for. Get online and see what it has to offer and try it out today.